Priyamvada Birla Scholarship 2023: The MP Birla Charitable Trust provides financial assistance to West Bengal's brilliant and economically underprivileged applicants every year. The MP Birla Priyamvada Birla scholarship 2023 official notice was also released this year by the MP Birla Group. Priyamvada Birla scholarship 2023 can be applicable to students who are continuing their education in universities and institutions in West Bengal.
Latest Update on 13rd April 2023- The wait for those of you who are waiting for Priyambada Birla Scholarship is coming to an end. The department will soon release the application form in July.
Details of Priyamvada Birla Scholarship 2023
| | |
| --- | --- |
| Events | Dates |
| Organisation | MP Birla Apex Charitable Trust |
| Name of the Scholarship | Priyamvada Birla Scholarship |
| Application Mode | Online |
| Beneficiaries | Students |
| Session | 2023 |
| Applicante | UR/SC/ST/OBC Students only |
| Location | West Bengal |
| Official Link | pbs.southpoint.edu.in |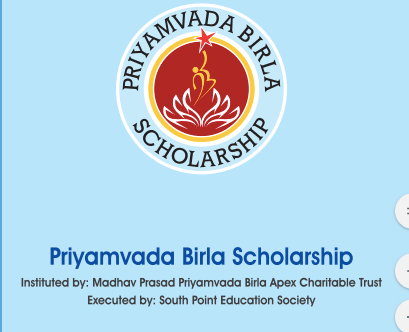 Scroll down to know and understand much more about the process of applying online and offline, admission requirements and other important information regarding Priyamvada Birla Scholarship 2023.
Also check, Begum Hazrat Mahal National Scholarship 2023.
Priyamvada Birla Scholarship Eligibility Criteria
All the below mentioned eligibility criteria should be followed by the applicants –
The students who are going to apply for this Priyamvada Birla Scholarship need to complete their HS Exam.
This Priyamvada Birla Scholarship is only for those candidates who are in first year of regular degree course in following – B.A, B.Sc, B.Com, BBA, BCA, LLB, BE, B.Tech, MBBS, BDS.
Annual family income of the students should not exceed 75000/-
As of 4 July 2023, the candidate's maximum age should be 25 years. The scholarship does not have a minimum age limit.
If a candidate got any other Priyamvada Birla Scholarship 2023 earlier, he/she must reveal in the application form.
The candidates are not supposed to work with an external organization of any kind. Furthermore, as far as the aspirants are concerned, internship for paid projects, institutional assignment are not regarded as employees.
So,Students who have been admitted in the first year of any course like BA BSc B.Com etc. In addition, BBA, BCA, LLB Engineering and Medicine MBBS and BDS colleges in West Bengal have taken admission. They will be able to submit applications for this Priyamvada Birla Scholarship.
Priyamvada Scholarship Stipend Money Amount
The scheme will give pupils a total of 24,000 per year for their course charges, hostel charges. The students will receive the payment of the Priyamvada Birla Scholarship 2023 until the finish of the apprenticeship. The pupil shall ensure the required average score in each session and complete all semesters in one effort.
Most Important Information of Priyamvada Birla Scholarship 2023
Scholarship for pursuing Under-Graduate Studies
Family income of the aspirants to be below Rs. 75000/- per annum
Scholarship sum of Rs 24000/- per year
Scholarship will be provided to a maximum of 4 years
Annual income of the family
Students who have an annual family income of Rs 75,000 or less will be able to submit an application for this Priyamvada Birla Scholarship 2023.Students who have BPL card should submit photocopy of BPL card along with the application form.
Age Limite
Those who want to apply for this Priyamvada Birla Scholarship 2023 must be 25 years of age.
Important Documents for Application
If you want to know about the required documents, keep an eye below-
Adhar Card
Voter ID
Birth Certificate
Secondary Marksheet
Marksheet of Higher Secondary
Passport size photo
Registration number
Priyamvada Scholarship Application Form online
Every year, before their course is completed, the students receive their Priyamvada Birla Scholarship 2023. A renewal of the scholarship contains some eligibility requirements.
Page 1-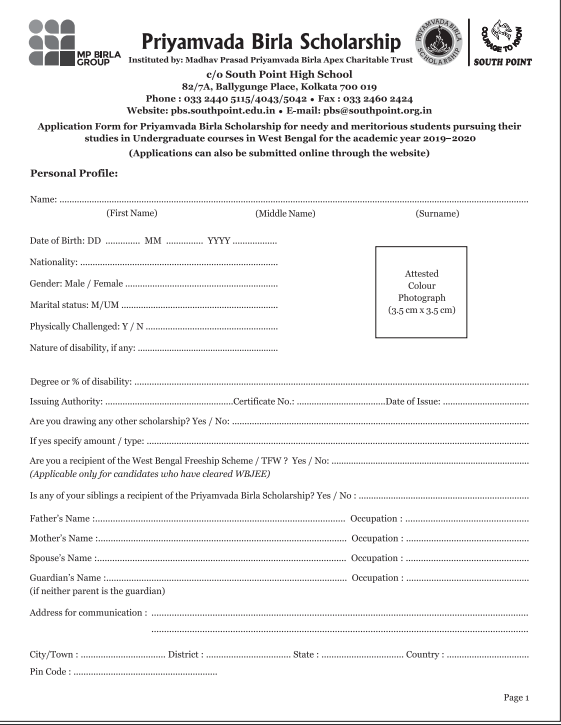 Page 2-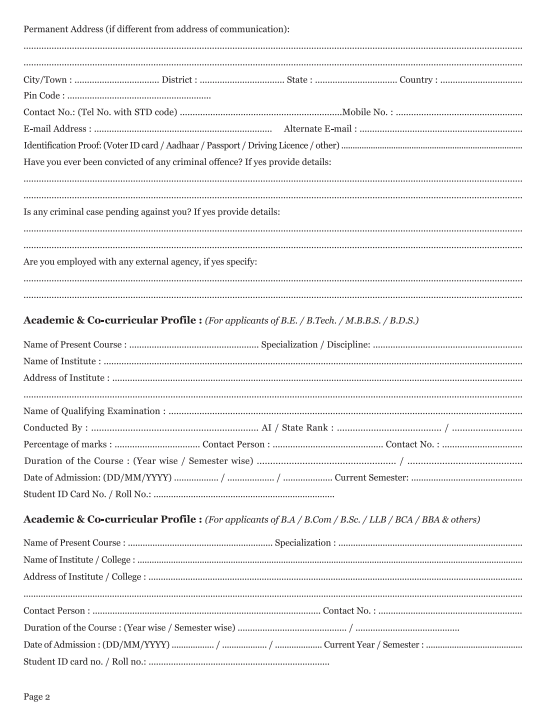 Page 3 & 4-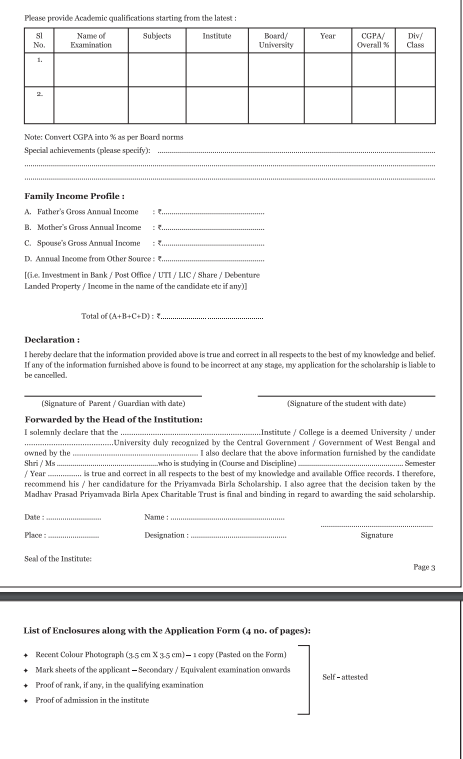 Applicants in general / professional courses must achieve a minimum mark of 45 percent. The pupil is also anticipated to be honoured in the upcoming year/semester.
Before applying for renewal, applicants must disclose of any changes to the stream / course to the authority.
Contact-
Priyamvada Birla Scholarship
The Board of Trustees,
Madhav Prasad Birla Apex Charitable Trust,
c/o South Point High School, 82/7A, Ballygunge Place,
Kolkata 700 019.
For any more update please visit www.jobsandhan.com.
All The Best!!